About Us
Little Bangla is a Indian takeaway in Derbyshire. Why don't you try our Bhuna or Chutney & Pickles?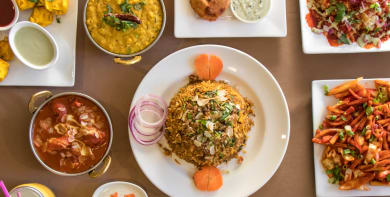 Reviews
83 reviews
Hines
"The food arrived early, was piping hot (never had a delivery so hot) and tasted excellent too! It was our first time of trying little Bangla and we will definitely be ordering again. Well done!"
27/05/2020
Claire
"Very tasty, great service"
23/05/2020
nikki
"Absolutely delicious!!"
23/05/2020
Martin
"Excellent food, ready ahead of time and very hot even after a drive back to Bretby."
15/05/2020
Menu
Tandoori Fish (Red Salmon)
£4.95
Tandoori King Prawn Starter
£4.95
Tandoori Mixed Kebab Starter
£4.75
Half Tandoori Chicken Main
£6.50
Tandoori Special
Tandoori chicken, chicken tikka, lamb tikka, tandoori king prawn, seekh kebab & naan
£9.50
Tandoori Fish (Red Salmon) Main
£8.50
Set Meal A For 1 Person
- Onion bhaji
- Vegetable samosa
- Poppadom
- Mixed vegetable balti
- Saag aloo
- Pilau rice
Starter served with salad & mint sauce
£11.50
Set Meal B For 1 Person
- Chicken tikka
- Seekh kebab
- Poppadom
- Chicken tikka masala
- Saag aloo
- Pilau rice
Starter served with salad & mint sauce
£12.50
Set Meal C For 4 Persons
- 2 seekh kebab
- 2 Vegetable samosa
- 4 Poppadoms
- Chicken Balti
- Chicken korma
- Prawn bhuna
- Lamb pasanda
- Mushroom bhaji
- Chana bhaji
- Saag paneer
- 2 Naan & 2 pilau rice
Starter served with salad & mint sauce
£48.95
Set Meal D For 2 Persons
- Seekh kebab
- Meat samosa
- Poppadoms
- Chicken tikka masala
- Lamb tikka bhuna
- Mushroom bhaji
- Chana bhaji
- Naan & pilau rice
Starter served with salad & mint sauce
£26.95
Tandoori King Prawn Biryani
£9.95
Special Biryani
Chicken, lamb, prawn & king prawn
£9.95
Tandoori Special Biryani
Lamb & chicken tikka & tandoori chicken
£9.95
Saag Aloo
Spinach & potatoes
£3.30
Saag Paneer
Spinach & Cheese
£3.30
Chutney & Pickles Sweet Mango
£0.60
Jhinga Masala
King prawn cooked in clay oven, mixed with cream yoghurt & mild spices
Mild
£8.50
Modu Chicken
Tender chicken OR lamb marinated & grilled in clay oven then cooked with our chef's special honey sauce
Mild
£7.50
Modu Lamb
Tender chicken OR lamb marinated & grilled in clay oven then cooked with our chef's special honey sauce
Mild
£7.50
Murgh Musolini
Chicken pieces stuffed with minced lamb roasted with butter served in a bed of medium sauce
Medium
£7.50
Makkon Chicken
Very mild creamy dish, with tandoori spices fresh cream & butter
Very mild
£7.50
Golden Chicken Curry Off the Bone
Semi dry, medium spiced, on the half chicken on the bone OR off the bone, served with omelette
£7.50
Golden Chicken Curry On the Bone
Semi dry, medium spiced, on the half chicken on the bone OR off the bone, served with omelette
£7.50
Little Bangla Special
Chicken tikka, lamb tikka & tandoori chicken cooked with sweet chilli sauce with fresh herbs & spices
£7.50
Chicken Tikka Curry
Sweet & sour, creamy mild
Mild
£7.50
Butter Chicken
Chicken tikka cooked in a mild creamy sauce in a butter sauce
Mild
£7.50
Chasni Chicken
Chicken tikka cooked with yoghurt, mango chutney & fresh cream, mild & creamy sauce
Mild
£7.50
Chicken Mutter Paneer
Diced spring chicken, chickpeas & house curd cheese cooked in mild sauce
Mild
£7.50
Shashlik Bhuna Chicken Tikka
Chicken OR lamb tikka, capsicum, onion & tomatoes, cooked in clay oven with medium spiced sauce
Medium
£7.50
Shashlik Bhuna Lamb Tikka
Chicken OR lamb tikka, capsicum, onion & tomatoes, cooked in clay oven with medium spiced sauce
Medium
£7.50
Sagwala
Tandoori king prawn cooked with spinach, garnished with onions, tomatoes & selected spices. Highly recommended
£8.95
Rezella Chicken Tikka
A classic dish, tastefully spiced with a variety of herbs & spice with sauteed tomatoes, green peppers & onion rings with fresh coriander
£7.50
Rezella Lamb Tikka
A classic dish, tastefully spiced with a variety of herbs & spice with sauteed tomatoes, green peppers & onion rings with fresh coriander
£7.50
Methi Gosht
Tender pieces of lamb cooked with fenugreek leaves, medium spices served semi dry
Medium
£7.50
Milli Juli Tikka Masala
Chicken tikka, lamb tikka, tandoori chicken & king prawn cooked with almonds & fresh cream
£8.95
Naga Chicken
Chicken OR lamb cooked with various herbs, spices, onions, peppers, tomato, garlic & naga chilli
Very hot
£7.50
Naga Lamb
Chicken OR lamb cooked with various herbs, spices, onions, peppers, tomato, garlic & naga chilli
Very hot
£7.50
North Indian Garlic Chilli Chicken
A very hot dish extensively prepared with fresh garlic & chillies to create a authentic taste
Very hot
£7.50
Tikka Chilli Masala Chicken
Chicken OR lamb tikka & minced lamb cooked with fresh green chillies in a rich spicy sauce, medium to hot dish
Medium to hot
£7.50
Tikka Chilli Masala Lamb
Chicken OR lamb tikka & minced lamb cooked with fresh green chillies in a rich spicy sauce, medium to hot dish
Medium to hot
£7.50
Tikka Garlic Chicken
Chicken OR lamb tikka cooked in fresh garlic, garlic butter, herbs & spices
Medium
£7.50
Tikka Garlic Lamb
Chicken OR lamb tikka cooked in fresh garlic, garlic butter, herbs & spices
Medium
£7.50
Tikka Jaipuri Chicken
Chicken OR lamb tikka cooked with fried onions, mushrooms & capsicums & in Punjabi masala
£7.50
Tikka Jaipuri Lamb
Chicken OR lamb tikka cooked with fried onions, mushrooms & capsicums & in Punjabi masala
£7.50
Tikka Jal Jala Chicken
Chicken OR lamb tikka cooked with onion, green pepper & aromatic chillies, hot & tangy
Hot
£7.50
Tikka Jal Jala Lamb
Chicken OR lamb tikka cooked with onion, green pepper & aromatic chillies, hot & tangy
Hot
£7.50
Tikka Masala Chicken
Cooked in clay oven with almonds & fresh cream
£7.50
Tikka Masala Lamb
Cooked in clay oven with almonds & fresh cream
£7.50
Tandoori King Prawn Masala
Tandoori king prawn, mince lamb, cooked with tandoori spices
£8.50
Tandoori Murghi Masala Off the Bone
Half tandoori chicken & mince lamb, cooked with tandoori spices, off the bone OR on the bone
£7.50
Tandoori Murghi Masala On the Bone
Half tandoori chicken & mince lamb, cooked with tandoori spices, off the bone OR on the bone
£7.50
Tandoori Chicken Chana Palak
Tandoori chicken cooked with chickpeas & spinach. A slightly dry medium dish
Medium
£7.50
Tikka Pasanda Chicken
Marinated chicken OR lamb cooked in clay oven, with fresh cream, almond, cashew nuts & mango pulp
£7.50
Tikka Pasanda Lamb
Marinated chicken OR lamb cooked in clay oven, with fresh cream, almond, cashew nuts & mango pulp
£7.50
Tandoori Special Balti
Lamb tikka, tandoori chicken & chicken tikka
£8.95
Balti Special
Chicken, lamb, prawn & king prawn
£8.95
Balti Chicken & Bombay Potato
£7.70
Balti Chicken & Lamb Balti
£7.70
Kulcha Naan
Vegetable fillings
£2.30
Keema Naan
Mince lamb filling
£2.30
Bullet Naan
Chilli & garlic
£2.60
Paratha
Deep fried Bengali bread
£1.95
Pilau Rice
Special basmati rice in ghee
£2.30
Special Pilau Rice
Mince lamb & peas
£3.50
Vegetable Platter
Gourmet selection of vegetable samosa, vegetable pakora, vegetable kebab & onion bhaji
£3.75
Mix Platter
Gourmet selection of chicken pakora, meat samosa, onion bhaji & vegetable kebab
£3.75
Paneer Chilli
Thin strips of Indian cheese fried with green chillies, peppers & egg
£3.75
Shole Kebab
Wafer thin chicken breast wrapped with minced lamb shallow fried in olive oil
£3.75
Chicken Strips
Herb tempura with garlic, crumbs & deep fried
£3.75
Chicken Munchirian
Small chicken breast pieces in a crispy batter fried with peppers, spring onion in a sweet tangy sauce
£3.75
Murghi Bora
Home style spicy & herby flat mince chicken kebab
£3.75
Karahi Kebab
Seekh kebab cocktail cooked in an iron skillet with peppers, fried onions with a hint of ginger
£3.75
Madras Chicken
Fairly hot
£6.50
Madras Chicken Tikka
Fairly hot
£6.95
Madras King Prawn
Fairly hot
£8.95
Madras Lamb Tikka
Fairly hot
£6.95
Madras Chicken & Lamb Mixed
Fairly hot
£8.95
Madras Tandoori Chicken
Fairly hot
£6.95
Madras Tandoori King Prawn
Fairly hot
£8.95
Madras Vegetable
Fairly hot
£6.50
Malayan Chicken
Cooked with pineapple, medium to mild
Medium to mild
£6.50
Malayan Chicken Tikka
Cooked with pineapple, medium to mild
Medium to mild
£6.95
Malayan King Prawn
Cooked with pineapple, medium to mild
Medium to mild
£8.95
Malayan Lamb
Cooked with pineapple, medium to mild
Medium to mild
£6.50
Malayan Lamb Tikka
Cooked with pineapple, medium to mild
Medium to mild
£6.95
Malayan Chicken & Lamb Mixed
Cooked with pineapple, medium to mild
Medium to mild
£8.95
Malayan Prawn
Cooked with pineapple, medium to mild
Medium to mild
£8.95
Malayan Tandoori Chicken
Cooked with pineapple, medium to mild
Medium to mild
£6.95
Malayan Tandoori King Prawn
Cooked with pineapple, medium to mild
Medium to mild
£8.95
Malayan Vegetable
Cooked with pineapple, medium to mild
Medium to mild
£6.50
Jalfrezi Chicken
Cooked with maximum chopped onions, capsicum, green chilli & little hot
Hot
£6.50
Jalfrezi Chicken Tikka
Cooked with maximum chopped onions, capsicum, green chilli & little hot
Hot
£6.95
Jalfrezi King Prawn
Cooked with maximum chopped onions, capsicum, green chilli & little hot
Hot
£8.95
Jalfrezi Lamb
Cooked with maximum chopped onions, capsicum, green chilli & little hot
Hot
£6.50
Jalfrezi Lamb Tikka
Cooked with maximum chopped onions, capsicum, green chilli & little hot
Hot
£6.95
Jalfrezi Chicken & Lamb Mixed
Cooked with maximum chopped onions, capsicum, green chilli & little hot
Hot
£8.95
Jalfrezi Prawn
Cooked with maximum chopped onions, capsicum, green chilli & little hot
Hot
£8.95
Jalfrezi Tandoori Chicken
Cooked with maximum chopped onions, capsicum, green chilli & little hot
Hot
£6.95
Jalfrezi Tandoori King Prawn
Cooked with maximum chopped onions, capsicum, green chilli & little hot
Hot
£8.95
Jalfrezi Vegetable
Cooked with maximum chopped onions, capsicum, green chilli & little hot
Hot
£6.50
Karahi Chicken
A Bangladeshi dish with selected herbs, spices, fresh garlic, fried tomatoes, green peppers & onion
£6.50
Karahi Chicken Tikka
A Bangladeshi dish with selected herbs, spices, fresh garlic, fried tomatoes, green peppers & onion
£6.95
Karahi King Prawn
A Bangladeshi dish with selected herbs, spices, fresh garlic, fried tomatoes, green peppers & onion
£8.95
Karahi Lamb
A Bangladeshi dish with selected herbs, spices, fresh garlic, fried tomatoes, green peppers & onion
£6.50
Karahi Lamb Tikka
A Bangladeshi dish with selected herbs, spices, fresh garlic, fried tomatoes, green peppers & onion
£6.95
Karahi Chicken & Lamb Mixed
A Bangladeshi dish with selected herbs, spices, fresh garlic, fried tomatoes, green peppers & onion
£8.95
Karahi Prawn
A Bangladeshi dish with selected herbs, spices, fresh garlic, fried tomatoes, green peppers & onion
£8.95
Karahi Tandoori Chicken
A Bangladeshi dish with selected herbs, spices, fresh garlic, fried tomatoes, green peppers & onion
£6.95
Karahi Tandoori King Prawn
A Bangladeshi dish with selected herbs, spices, fresh garlic, fried tomatoes, green peppers & onion
£8.95
Karahi Vegetable
A Bangladeshi dish with selected herbs, spices, fresh garlic, fried tomatoes, green peppers & onion
£6.50
Korma Chicken
Very mildly spiced, cooked with coconut in rich creamy sauce
Very mild
£6.50
Korma Chicken Tikka
Very mildly spiced, cooked with coconut in rich creamy sauce
Very mild
£6.95
Korma King Prawn
Very mildly spiced, cooked with coconut in rich creamy sauce
Very mild
£8.95
Korma Lamb
Very mildly spiced, cooked with coconut in rich creamy sauce
Very mild
£6.50
Korma Lamb Tikka
Very mildly spiced, cooked with coconut in rich creamy sauce
Very mild
£6.95
Korma Chicken & Lamb Mixed
Very mildly spiced, cooked with coconut in rich creamy sauce
Very mild
£8.95
Korma Prawn
Very mildly spiced, cooked with coconut in rich creamy sauce
Very mild
£8.95
Korma Tandoori Chicken
Very mildly spiced, cooked with coconut in rich creamy sauce
Very mild
£6.95
Korma Tandoori King Prawn
Very mildly spiced, cooked with coconut in rich creamy sauce
Very mild
£8.95
Korma Vegetable
Very mildly spiced, cooked with coconut in rich creamy sauce
Very mild
£6.50
Bhuna Chicken
A throughly garnished dish onion, capsicum, tomato & selected spices
£6.50
Bhuna Chicken Tikka
A throughly garnished dish onion, capsicum, tomato & selected spices
£6.95
Bhuna King Prawn
A throughly garnished dish onion, capsicum, tomato & selected spices
£8.95
Bhuna Lamb
A throughly garnished dish onion, capsicum, tomato & selected spices
£6.50
Bhuna Lamb Tikka
A throughly garnished dish onion, capsicum, tomato & selected spices
£6.95
Bhuna Chicken & Lamb Mixed
A throughly garnished dish onion, capsicum, tomato & selected spices
£8.95
Bhuna Prawn
A throughly garnished dish onion, capsicum, tomato & selected spices
£8.95
Bhuna Tandoori Chicken
A throughly garnished dish onion, capsicum, tomato & selected spices
£6.95
Bhuna Tandoori King Prawn
A throughly garnished dish onion, capsicum, tomato & selected spices
£8.95
Bhuna Vegetable
A throughly garnished dish onion, capsicum, tomato & selected spices
£6.50
Dupiaza Chicken
With onion cubes & capsicum
Medium hot
£6.50
Dupiaza Chicken Tikka
With onion cubes & capsicum
Medium hot
£6.95
Dupiaza King Prawn
With onion cubes & capsicum
Medium hot
£8.95
Dupiaza Lamb
With onion cubes & capsicum
Medium hot
£6.50
Dupiaza Lamb Tikka
With onion cubes & capsicum
Medium hot
£6.95
Dupiaza Chicken & Lamb Mixed
With onion cubes & capsicum
Medium hot
£8.95
Dupiaza Prawn
With onion cubes & capsicum
Medium hot
£8.95
Dupiaza Tandoori Chicken
With onion cubes & capsicum
Medium hot
£6.95
Dupiaza Tandoori King Prawn
With onion cubes & capsicum
Medium hot
£8.95
Dupiaza Vegetable
With onion cubes & capsicum
Medium hot
£6.50
Curry Chicken Tikka
Medium
£6.95
Curry Chicken & Lamb Mixed
Medium
£8.95
Curry Tandoori Chicken
Medium
£6.95
Curry Tandoori King Prawn
Medium
£8.95
Dansak Chicken
Sweet & sour cooked with lentils & pineapple
Hot
£6.50
Dansak Chicken Tikka
Sweet & sour cooked with lentils & pineapple
Hot
£6.95
Dansak King Prawn
Sweet & sour cooked with lentils & pineapple
Hot
£8.95
Dansak Lamb
Sweet & sour cooked with lentils & pineapple
Hot
£6.50
Dansak Lamb Tikka
Sweet & sour cooked with lentils & pineapple
Hot
£6.95
Dansak Chicken & Lamb Mixed
Sweet & sour cooked with lentils & pineapple
Hot
£8.95
Dansak Prawn
Sweet & sour cooked with lentils & pineapple
Hot
£8.95
Dansak Tandoori Chicken
Sweet & sour cooked with lentils & pineapple
Hot
£6.95
Dansak Tandoori King Prawn
Sweet & sour cooked with lentils & pineapple
Hot
£8.95
Dansak Vegetable
Sweet & sour cooked with lentils & pineapple
Hot
£6.50
Pathia Chicken
Sweet & sour cooked with maximum tomato puree
Hot
£6.50
Pathia Chicken Tikka
Sweet & sour cooked with maximum tomato puree
Hot
£6.95
Pathia King Prawn
Sweet & sour cooked with maximum tomato puree
Hot
£8.95
Pathia Lamb
Sweet & sour cooked with maximum tomato puree
Hot
£6.50
Pathia Lamb Tikka
Sweet & sour cooked with maximum tomato puree
Hot
£6.95
Pathia Chicken & Lamb Mixed
Sweet & sour cooked with maximum tomato puree
Hot
£8.95
Pathia Prawn
Sweet & sour cooked with maximum tomato puree
Hot
£8.95
Pathia Tandoori Chicken
Sweet & sour cooked with maximum tomato puree
Hot
£6.95
Pathia Tandoori King Prawn
Sweet & sour cooked with maximum tomato puree
Hot
£8.95
Pathia Vegetable
Sweet & sour cooked with maximum tomato puree
Hot
£6.50
Rogan Josh Chicken
Cooked with fresh tomatoes, onions & fresh herbs
£6.50
Rogan Josh Chicken Tikka
Cooked with fresh tomatoes, onions & fresh herbs
£6.95
Rogan Josh King Prawn
Cooked with fresh tomatoes, onions & fresh herbs
£8.95
Rogan Josh Lamb
Cooked with fresh tomatoes, onions & fresh herbs
£6.50
Rogan Josh Lamb Tikka
Cooked with fresh tomatoes, onions & fresh herbs
£6.95
Rogan Josh Chicken & Lamb Mixed
Cooked with fresh tomatoes, onions & fresh herbs
£8.95
Rogan Josh Prawn
Cooked with fresh tomatoes, onions & fresh herbs
£8.95
Rogan Josh Tandoori Chicken
Cooked with fresh tomatoes, onions & fresh herbs
£6.95
Rogan Josh Tandoori King Prawn
Cooked with fresh tomatoes, onions & fresh herbs
£8.95
Rogan Josh Vegetable
Cooked with fresh tomatoes, onions & fresh herbs
£6.50
Saag Chicken
A beautiful combination of fresh green spinach, garlic & spices to produce a medium hot dry dish
Medium hot
£6.50
Saag Chicken Tikka
A beautiful combination of fresh green spinach, garlic & spices to produce a medium hot dry dish
Medium hot
£6.95
Saag King Prawn
A beautiful combination of fresh green spinach, garlic & spices to produce a medium hot dry dish
Medium hot
£8.95
Saag Lamb
A beautiful combination of fresh green spinach, garlic & spices to produce a medium hot dry dish
Medium hot
£6.50
Saag Lamb Tikka
A beautiful combination of fresh green spinach, garlic & spices to produce a medium hot dry dish
Medium hot
£6.95
Saag Chicken & Lamb Mixed
A beautiful combination of fresh green spinach, garlic & spices to produce a medium hot dry dish
Medium hot
£8.95
Saag Prawn
A beautiful combination of fresh green spinach, garlic & spices to produce a medium hot dry dish
Medium hot
£8.95
Saag Tandoori Chicken
A beautiful combination of fresh green spinach, garlic & spices to produce a medium hot dry dish
Medium hot
£6.95
Saag Tandoori King Prawn
A beautiful combination of fresh green spinach, garlic & spices to produce a medium hot dry dish
Medium hot
£8.95
Saag Vegetable
A beautiful combination of fresh green spinach, garlic & spices to produce a medium hot dry dish
Medium hot
£6.50
Vindaloo Chicken
Very hot
£6.50
Vindaloo Chicken Tikka
Very hot
£6.95
Vindaloo King Prawn
Very hot
£8.95
Vindaloo Lamb Tikka
Very hot
£6.95
Vindaloo Chicken & Lamb Mixed
Very hot
£8.95
Vindaloo Tandoori Chicken
Very hot
£6.95
Vindaloo Tandoori King Prawn
Very hot
£8.95
Vindaloo Vegetable
Very hot
£6.50
Contact Us
Find Us
Unit 2 Common Road, Church Gresley, Derbyshire, DE119NW
We deliver to
DE11, DE12, DE15